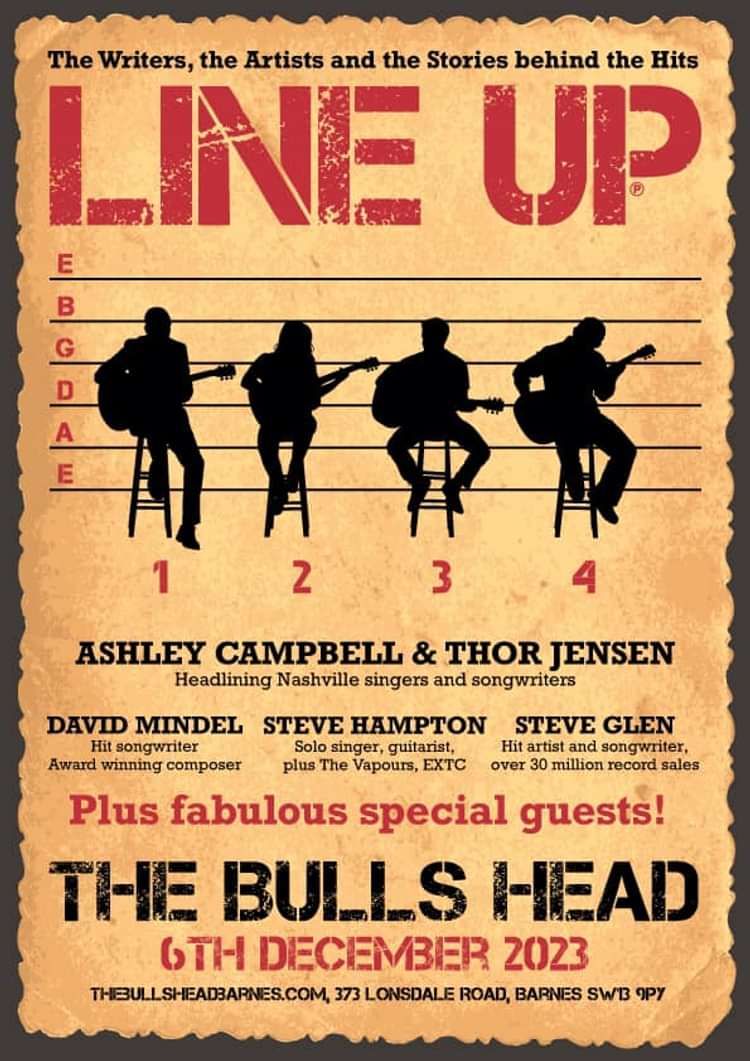 Ashley & Thor + David Mindel & Steve Hampton
Ashley Campbell & Thor Jensen + David Mindel + Steve Hampton + Steve Glen
SOLD OUT
Entry Requirements: Under 16s are not permitted in the venue. Under 18s must be accompanied by a responsible adult at all times.
LINE UP
THE WRITERS & THE STORIES BEHIND SOME OF THE GREATEST HITS
FEATURING
ASHLEY CAMPBELL & THOR JENSEN
with
DAVID MINDEL, STEVE GLEN & STEVE HAMPTON
Based on Nashville's world-renowned Songwriter Rounds, LINE UP brings together some of the very best songwriters around today. Not only will they regale you with their stories, every writer will also contribute to the performances of their on-stage partners. The LINE UP format is designed for audience inter-action with questions actively encouraged as each writer relates the stories behind some of their best-known hit songs - and performs them, acoustically, too!
ASHLEY CAMPBELL & THOR JENSEN - A unique meeting of musical genres as Ashley Campbell's country/Americana joins forces with Thor Jensen's rock and Gypsy jazz. An outstandingly talented duo - both strong instrumentalists with vocals that blend seamlessly together to deliver some glorious, original music.
DAVID MINDEL - Writer of hit songs, Eurovision entries, TV themes, and more advertising jingles than you can shake a stick at, David Mindel has worked with some of the world's very best artistes and musicians and has some amazing stories to share.
STEVE HAMPTON - A multi-instrumentalist, singer and songwriter, who has worked with Joe Jackson, The Vapors, and Dead Crow Road. Steve Hampton is currently the lead vocalist and guitarist with EXTC who have recently toured the UK, US and Japan.
STEVE GLEN - A renowned composer, songwriter and record producer, Steve Glen can boast over 30 million sales over the course of his career, securing his place on the list of Great British Songwriters. Steve has produced over 100 top acts and artistes including Hot Chocolate, Gloria Gaynor, Bucks Fizz, Roger Daltrey and Cliff Richard.