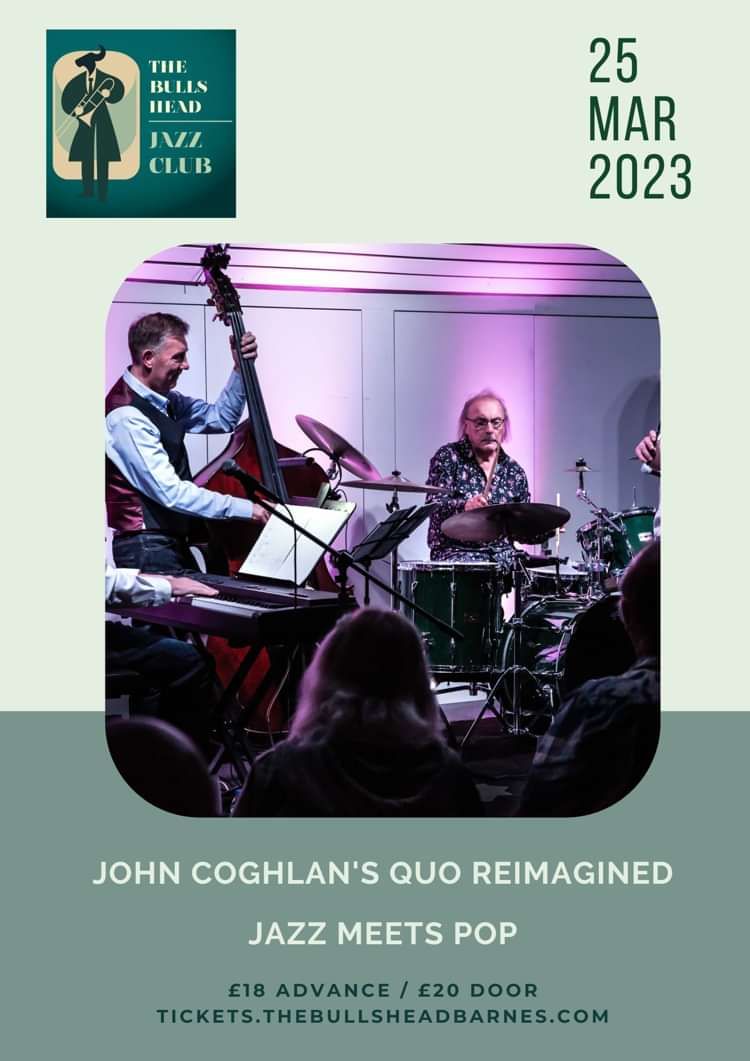 John Coghlan's Quo Reimagined
John Coghlan's Quo Reimagined
£18 Adv / £20 Door
Entry Requirements: Under 16s are not permitted in the venue. Under 18s must be accompanied by a responsible adult at all times.
John Coghlan (http://www.johncoghlan.com), drummer for the Iconic band Status Quo for over twenty years, is taking a brand new look at some of the 'Quo' compositions. His quartet reimagines the harmonies and musical feel of classics such as Pictures of Matchstick Men, Caroline and In the Army Now, and the result maintains the essence of the originals yet they are now imbued with a lighter, more lyrical touch with hints of jazz and even classical genres.
Kickstarting the change and dynamic feel of the music, is the choice of instruments: Power chords on guitar and electric bass are replaced by jazz pianist Alex Steele and double bassist Paul Jefferies and out front vocalising and creating searingly powerful riffs and solos is quite possibly one Europes most exciting jazz violinists - Ben Holder.
The whole package is presented by John plus the trio with great humour, story telling and pure joy for the music that set pop & rock charts alight throughout the world for so many years.
Line Up
John Coghlan's Quo Reimagined
John Coghlan's Quo
John Coghlan joined Francis Rossi and Alan Lancaster in their newly-formed band 'The Spectres' in 1962. The group went through a series of name changes, including Traffic Jam, before becoming Status Quo in the late 60s when Rick Parfitt also joined the line-up. In the years that followed, a string of chart-topping albums and an almost endless stream of hits included Pictures of Matchstick Men; In My Chair; Paper Plane; Caroline; Down Down; Rain; Wild Side Of Life; Rockin' All over the World, and many more. For many Quo fans and critics alike, this time is often regarded as Quo's "Classic" period.
Since leaving Quo John has worked with many noted and diverse musicians, in his own Diesel Band; with Partners In Crime; and the 'Rockers' featuring Phil Lynott, Roy Wood and Chas Hodges. Other collaborations have included Noel Redding (ex-Jimi Hendrix) and Eric Bell (ex-Thin Lizzy).
In 2013 and 2014, John rejoined Francis Rossi, Rick Parfitt and Alan Lancaster for the two sell-out Status Quo Frantic Four Reunion Tours, selling out all over the UK and Europe and reigniting the excitement of the early days of Quo.
During the late nineties John Coghlan's Quo was formed and through various line-ups has enjoyed regular gigs all over the UK and Europe.
His new quartet now reimagines the songs of Quo.