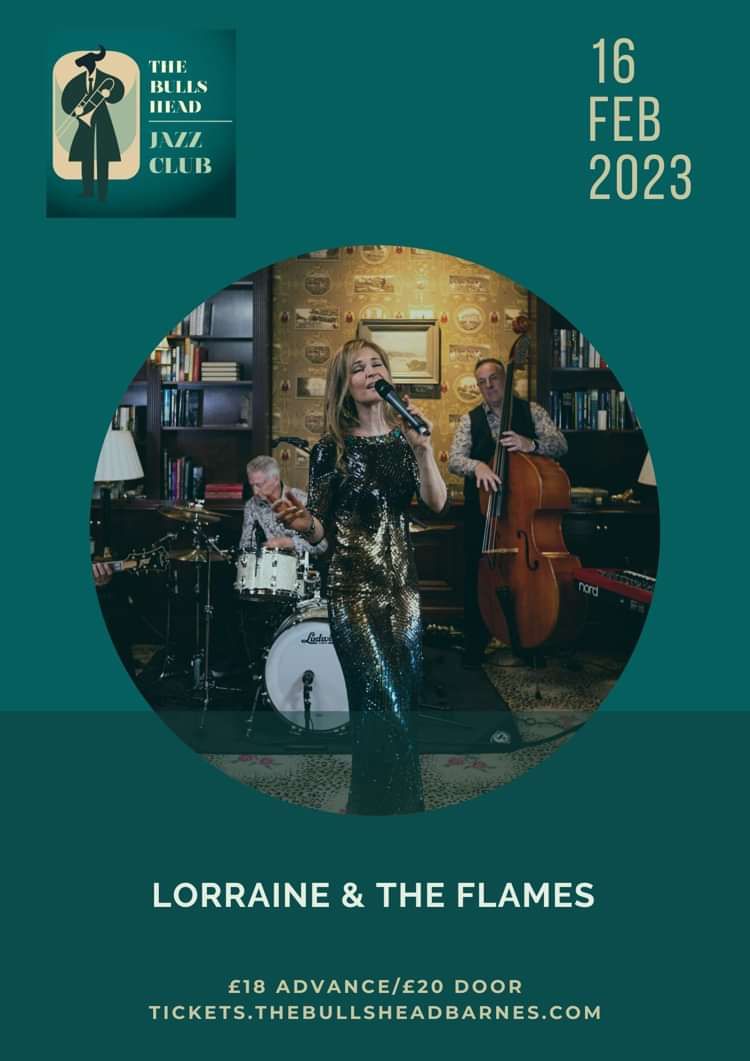 Lorraine & The Flames
Lorraine & The Flames
£18 Advance
Entry Requirements: Under 16s are not permitted in the venue. Under 18s must be accompanied by a responsible adult at all times.
Advance Tickets (e-ticket)
Lorraine & The Flames is a new 5 piece Jazz Band, comprising of Lorraine Heavey on lead vocals, Rob Webb on keyboards, Pete Roth on electric guitar, Mike Pratt on double bass and John E Martin on drums. Together they make a wonderfully mellow, easy listening sound, whether delivering a rendition of old world or contemporary jazz.
Line Up
Lorraine & The Flames
Lineup:
Vocals - Lorraine Heavey
Lorraine started to sing at the age of 5 and starred in a number of school plays before eventually landing the lead role in Snow White at Dublin's National Theatre and then went on to perform on National television's Live at 3 and The Late Late Show. Lorraine's two biggest influences are Barbra Streisand and Ella Fitzgerald, hence the recent jazz set she has compiled with her band Lorraine & The Flames, covering many of the great melodies from The Great American Songbook.
Bass - Mike Pratt
Mike is a double bass & bass guitar player, composer and producer based in London. On the London jazz scene, Mike has performed with Acantha Lang, Dave O'Higgins and Liane Carroll, and at venues including Ronnie Scott's, The Jazz Cafe, the Royal Albert Hall and the Cape Town Jazz Festival.
Guitar - Pete Roth
Pete Roth has just finished his fourth international tour for MGP records promoting his albums Meridian and Circus in the Sky. As well as touring the country with the musical-show "That's the way it was". He is also in an internationally touring trio with Nicolas Meier (Jeff Beck group) and Dave Suttle.
Keyboard - Robert Webb
Robert originally trained classically, but in his teens grew a passion for Pop, Soul and Jazz music. Professionally, Robert has played and recorded for many artists such as Cliff Richard, The Supremes, Kim Wilde and Rietta Austin. Robert also works as a studio producer and arranger recording albums for various artists.
Drums - John Martin
John is an accomplished player of a range of percussion instruments. Over a period extending more than five decades John has performed internationally with numerous jazz, fusion, soul and rock groups in some thirty countries around the world.