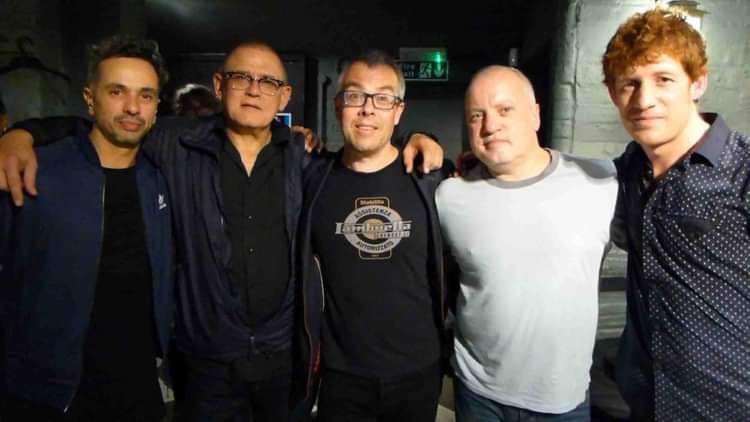 Reach For It – The Genius Of George Duke
Reach For It
£15 Adv / £17 Door
Entry Requirements: Under 16s are not permitted in the venue. Under 18s must be accompanied by a responsible adult at all times.
Reach For It: The Genius Of George Duke:
A celebration of the master musician, all-round genius and great guy. Tracing his work from the Zappa years though a glittering, multi-album solo career, the heavyweight collaborations, (Billy Cobham, Stanley Clarke) and Montreux triumphs, Dukey's music provides the melodic soul enriched canvas for these outstanding players to express themselves.
Expect impeccable ensemble musicianship combined with friendly funk and some very groovy jazz - plus solos to take the breath away!
Carl Hudson – keyboards, (Culture Club, Sister Sledge) Paul Dunne – guitar, (Paraphernalia, Strictly Band) Phil Mulford - bass (Lionel Richie, Beyonce) Geoff Dunn - drums (Van Morrison, Incognito, Joe Cocker, Donna Summer) and Karlos Edwards – percussion & vocals, (Beverley Knight, Prefab Sprout).
Expect fireworks!
Line Up
Reach For It
The Genius Of George Duke: A celebration of the master musician, all-round genius and great guy - George Duke. Racing his work from the Zappa years though a glittering, multi-album solo career, the heavyweight collaborations, (Billy Cobham, Dianne Reeves, Stanley Clarke) and Montreux triumphs, Dukey's music provides the melodic canvas for these outstanding players to express themselves. Lots more Dukey links to great material for them to explore in the likes of Al Jarreau, Deniece Williams, Jill Scott, Teena Marie – even Michael Jackson! Expect impeccable ensemble musicianship combined with great soul vocals, some friendly funk and very groovy jazz - plus solos and vocals to take the breath away. Reach For It claim direct links to George Duke and his key musical partner Billy Cobham through its' own personnel; vocalist Gina Foster, (George Duke, Eric Clapton, Sinead O'Connor) sang alongside Chanté Moore (another Duke protégé) and the great Phil Perry in Dukey's band at Montreux Jazz Festival.Derek Green - vocals (Pet Shop Boys, Stevie Wonder, Deniece Williams, Robbie Williams) Gina Foster - vocals (George Duke Band, Eric Clapton, Sinead O'Connor, Squeeze) Carl Hudson - keyboards (PB Underground, Sister Sledge, Average White Band, Jocelyn Brown) Kim Murray – guitar (Joyce Sims, Leroy Burgess, Carmen Rodgers) John McKenzie - bass (David Bowie, Everything But The Girl, Lionel Richie, Dr. John) Karl Van den Bossche – percussion (Robert Palmer, Incognito, Brand New Heavies, Joss Stone, Sade) Geoff Dunn - drums (Van Morrison, Incognito, Joe Cocker, Donna Summer)