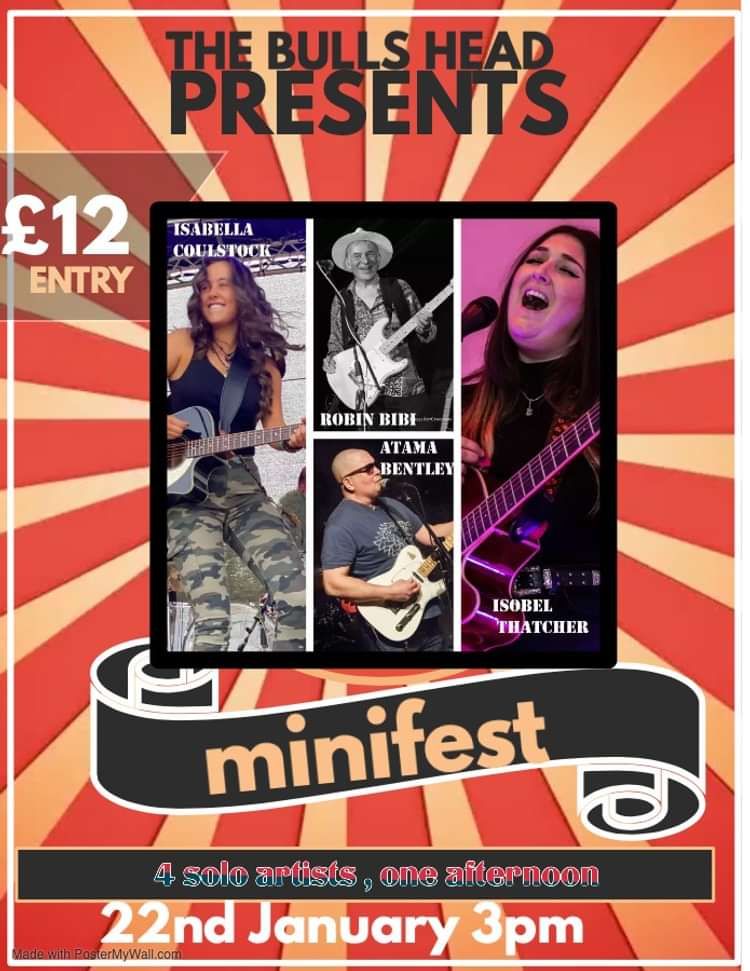 Solo Soul-Blues Mini-Festival on The Lunchtime Session
Attama 'Blues' Bentley + Robin Bibi + Isobel Thatcher + Isabella Coulstock
£12 Adv / £14 Door
Entry Requirements: Under 16s are not permitted in the venue. Under 18s must be accompanied by a responsible adult at all times.
*Solo Soul-Blues Mini-Festival on The Lunchtime Session: *
All-Star Showcase hosted by Atama Bentley and featuring some of the capital's best solo blues & soul performers.
Isabella Coulstock: From playing a live 'Under The Apple Tree' session for Bob Harris at the age of 13 years old to performing at such iconic London venues as the Troubadour, the Bedford in Balham, the Half Moon in Putney and most recently a sold out show at Camden's Green Note, singer, songwriter & guitarist Isabella's musical career is really taking off. 2022 also saw her performing at the Award winning Black Deer Festval in Kent and the renowned Cornbury Festival in Oxfordshire as well as regularly supporting Jools Holland on his Summer & Winter tours, building a wealth of experience already at the age of 21. "I have loved working with Isabella … she is the real deal ….." Chaz Jankel
*Isobel Thatcher: *Award-winning London singer-songwriter whose style is heavily influenced by the blues scene she grew up with together with Americana and Country influences. Isobel's self-penned songs have seen her performing all over the UK and internationally at top venues such as the O2 Shepherds Bush Empire and Rampelyset, Denmark, building a steadily increasing reputation and fan base. A nomination for 'Best Female Artist' in the Graham Steele Music Awards was followed by being chosen as a top 15 Category Finalist in the Blues & Roots Radio Song writing competition.
Robin Bibi: Vocalist and guitarist Robin is a regular nominee in the British Blues awards in several categories as well as winning best 'Guitar Solo' from WRC. Robin has worked with Robert Plant, Jimmy Page, The Pretty Things and Ben E King to name but a few. Together with his band Robin and has played all the major blues festivals both in the UK and abroad, appearing with such artists as Chuck Berry, Van Morrison, Dr Feelgood and UB40 to name but a few. This is a great chance to see this top artist performing his exciting Blues & Roots repertoire.
Atama 'Blues' Bentley: London's very own Fiji Soul/Blues man formally of the Sydney Blues Mafia, will host and bring his own style of powerful guitar playing and soulful vocals to the afternoon's musical proceedings.
Line Up
Attama 'Blues' Bentley
Robin Bibi
Robin Bibi launches his 'Live at the Ram Jam' album – his first acoustic album since the 2006 'Fast Life Songs'.
ROBIN BIBI is one of the UK's top blues/rock guitarists and having paid his dues working with such names as Robert Plant, Jimmy Page, Ben.E.King, The Pretty Things and Helen Shapiro, launched the Robin Bibi Band in the late 90s...

Exuberant passionate, dynamic, exciting and fun! It's music played straight from the heart, it will move your head, your heart and of course your feet! As Robin himself says: "Our music reaches out to young and old alike and our audiences always leave our gigs smiling...!!"
Blues, Funk, Rock, Reggae (Occasionally!) and Jazz/Fusion are all rolled together in The Robin Bibi Band's own totally unique feel-good concoction. Above all, the Band's aim is to give their audience a night to remember whilst guaranteeing the best British Blues Rock can offer in a tried and tested, exciting, spontaneous, power trio format with the highest level of musicianship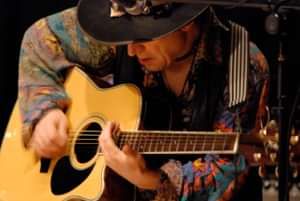 Isobel Thatcher
Isobel is an award winning singer-songwriter in London UK who's style is heavily influenced by the Blues scene that Isobel grew up with, as well as Wistful Americana and Country.
Isobel started originally with piano lessons at age 4 and then had her first musical adventure at the Salisbury Blues Jam, playing saxophone at the young age of just 9. A few years down the line, Isobel studied at Tech Music Schools in London and received a HND in Vocal Performance and Cert He in Pop Music Practice. She also went on to win the Tech Music School University 'Songwriting Showcase' receiving the award of 'Song of the Year' with her self penned bluesy original 'I wont.' This award meant she went on to perform at the O2 Shepards Bush Empire with a full band for 'Tech Music Schools Graduation 2012'.
Isobel's self-penned songs have given her a wide range of success singing all over the UK and internationally in venues such as the O2 Shepherds Bush Empire, London and Rampelyset, Denmark which has given Isobel a chance to build her reputation and fan base.
Isobel independently released her Debut EP in 2013, which was recorded with Curved Air legend – Michael Wedgwood at his studios in Denmark. This received radio interest from not only local radio stations but also BBC Introducing UK – the South.
This has been followed by Isobel's long awaited E.P 'On My Own' which boast a range of styles from Country, Blues, Folk and Pop . On My Own was launched at a sold out ticketed event in Wiltshire and also at the infamous Bedford in Balham. Isobel has also performed tracks from the new E.P live on BBC Wiltshire and it has had radio play from Abbey 104 FM, Way Out Radio, Alex Krupa's Country Show and across the pond on KB Country Radio & Grey Eagle . The new record has been described by Rock-Regenernation' as: "a plethora of blues influences as well as a good sprinkling of country styles with Isobel's fine vocals being the proverbial cherry on the cake."
Isobel is set to release her new single 'Walking Down The Tracks' on the 30th October 2020 which is described as aBlues tinged Americana track detailing the troubles of continuing something despite being unquestionably bad news.