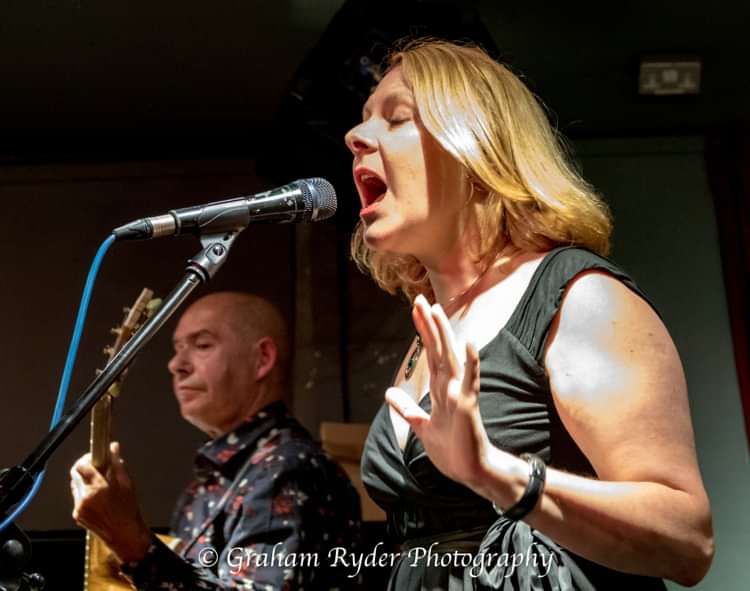 Liz Owen Band
The Liz Owen Band
£12 Adv / £14 Door
Entry Requirements: Under 18s must be accompanied by a responsible adult at all times.
*Liz Owen Band Play the Lunchtime Session: *
After recording her well-received mini-album, "5 Spice", vocalist Liz Owen put together a group of highly experienced musicians specifically to perform live. The band's music is firmly rooted in classic R&B, blues and soul, mostly from the 60's era. Influences range from Etta James and Sugar Pie DeSanto through to Van Morrison and Mel Torme with excursions into the fields of jazz and Latin. The current line-up features Liz Owen, vocals, Craig Anders, guitar, Tim Blanchard, sax, Dave Meaden, bass, Ian Meredith, drums and Pico Brown, keyboards.
With Liz Owen's bluesy vocals equally at home with songs requiring subtleties of phrasing and interpretation as well as numbers that rock out with the best of them, this is sure to be a swinging toe tapper of a show.
Line Up
The Liz Owen Band
Following the recording of her mini-album, "Five Spice", Liz decided that what she really wanted to do was to put together a tight band and take it on the road. She contacted a bunch of experienced musicians from the London pub/club scene, some of whom had recorded with her, and this is the current exciting lineup, appearing regularly at a number of venues, including the Bull's Head in Barnes and the famous Half Moon in Putney. The band's music is firmly rooted in classic R&B, mostly from the sixties and covering the work of singers such as Etta James, Betty Everett, Sugar Pie DeSanto and Fontella Bass. There are also excursions into the field of jazz, with material from Mel Torme and George Benson. Songs from later periods include work by Randy Crawford, Caro Emerald, Bonnie Raitt and Steely Dan. Liz is at home with songs that require subtleties of phrasing and interpretation but can rock out with the best of them. Try to stop your toes tapping. Vocals: Liz Owen started singing in competitions when she was at primary school and nearly went down the opera route until she was seduced by the dulcet tones of Nat King Cole and everything to do with blues, soul and jazz. From there Liz went into singing in musicals and was then invited to join established London band - The Usual Suspects. One member of that band is still with Liz and this happy sextet loves to play anything that will get the joint jumping. Guitar: Craig Anders played regular local gigs in his home island of Jersey and, aged 16, appeared in the film The Ghost Goes Gear. In the 1970s he was the lead/slide guitarist in various professional recording bands, making one album with The Parlour Band and four with the O Band, in which he played lead, slide, acoustic and pedal steel guitars and co-wrote many of the songs. The band toured extensively in the UK, Europe and Scandinavia and featured several times on The John Peel Sessions and The Old Grey Whistle Test. He also played sessions, including Top of the Pops, and recorded and gigged with other bands, including Charlie Dore's Back Pocket. He joined The Liz Owen Band in 2017 and also plays with The Midnight River Blues Band, as well as teaching rock and classical guitar, to grade 8. Bass Guitar: Dave Meaden has been involved in music for far longer than he cares to remember, with an early sighting on "Ready, Steady, Go" in 1963, sporting a Johnny Kidd eyepatch. From trad jazzers "The Syncobury Canterpaters" in the 60s to R&B stalwarts "Max Headroom and the Car Parks" in the 80s, his bass has underpinned a long list of bands destined for obscurity. Undeterred, he spent twenty years running "The Usual Suspects" and now, in his twilight years, spends his time tending his collection of basses and providing the bottom end for The Liz Owen Band. Drums: Ian Meredith started playing the drums in school and went on to play in a college rock band before putting the drumsticks to one side due to work and family commitments. Fast forward a decade or three, and the urge to play returned. Since picking up the sticks again, Ian has played in blues, pop and rock 'n' roll bands at many well known London venues before joining The Liz Owen Band. Sax: Tim Blanchard didn't start playing the saxophone until his late 20s when he finally worked out which way round the reed went on the saxophone mouthpiece! He plays soprano, alto, tenor and baritone saxes. Over the past decades he has played in a variety of bands including, most recently, Clarence King and the Regents. Starting as a jazz sextet with a residency in a Soho jazz club, this band morphed into a jazz/blues/ska/funk oriented eight piece with residencies in a range of venues around the City and North London. Keyboards: Pico Brown has been playing piano, electric piano and Hammond organ for many years, starting with bands in his home town of Des Moines, Iowa, USA. After getting a bachelor's degree in music in the US and playing in the University of Iowa jazz band, he has since been playing and recording jazz, funk, soul, blues and rock keyboards for a variety of bands in New York and in London, where he is now based. What gets him going? The music of Brian Auger, Jimmy Smith, Chick Corea, Herbie Hancock, Bill Evans, Joe Sample, Oscar Peterson and Larry Goldings, as well as many others. Guest Keyboards: We are always happy to welcome Peter Filleul as our occasional guest keyboard player. Born in Jersey, Peter has played with our guitarist, Craig, since they were at school together. A recording artist since the 70s with The Parlour Band and A Band Called O, subsequently he has been a part of East of Eden and the Climax Blues Band, arranged for theatre - Blood Brothers - and has written scores for TV and film dramas - Life and Loves of a She-Devil- in the 80s. Over the years, playing with The Blues Band and The Dave Kelly Band, in more recent times Peter has toured with Dave Kelly and Christine Collister and also features as a guest in Bimsha's renowned Roots Reggae Revival band in Montserrat, where he lives in the cold months.