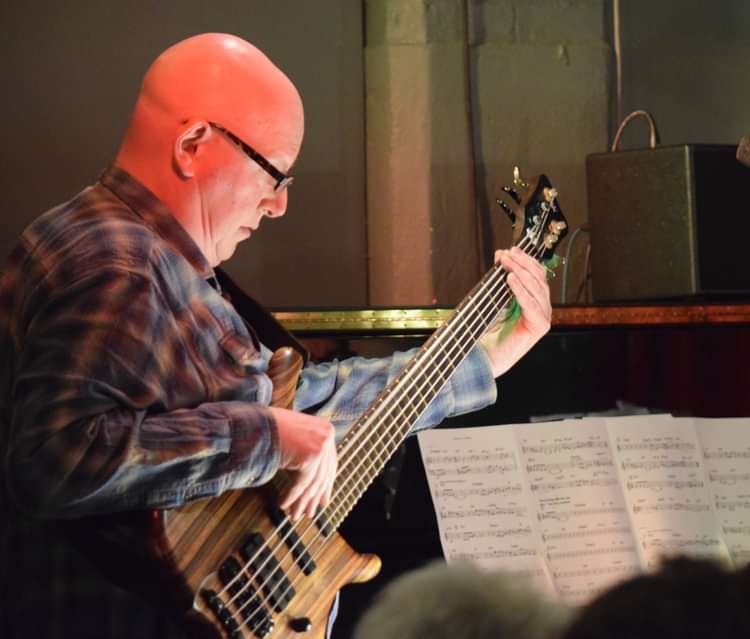 Dave Jones' Affinity play the Lunchtime Session
Dave Jones
£12 Adv / £14 Door
Entry Requirements: Under 16s are not permitted in the venue. Under 18s must be accompanied by a responsible adult at all times.
Advance Tickets (e-ticket)
The much-lauded bassist Dave Jones leads his six-star line-up featuring some of the UK's best jazz musicians including, Mike Outram, guitar, Sophie Alloway, drums, Will Barry, keys & piano, Tom Ridout, saxes & reeds and special guest Madeleine Jones on keys and vocals. The afternoon performance will explore Dave's arrangements of classic jazz repertoire by such as Herbie Hancock, Jaco Pastorius, Michael Petrucciani and Toninho Horta among others together with some original compositions with a funky twist. 3.30pm (Doors 3.00pm) Tickets £12 in advance & £14 on the door
Part of the 2022 EFG London Jazz Festival
Line Up
Dave Jones
Dave's writing is sophisticated and nuanced. Just when you think you know where he's going, there is a change of texture or tempo, you do find yourself in an unexpected place and …. it's beautiful!! … London Jazz News'
Dave's bass playing in recent years has included Ronnie Scott's Soul and Jazz Orchestra, Pete Cater Big Band and Maciek Pysz. He has played alongside alongside drummers Steve Gadd and Keith Carlock and he remains active in jazz education as former head of Richmond Jazz School. John Turville has toured the UK and Europe with Gilad Atzmon and is currently working with Tim Garland's Lighthouse Trio, Tim Whitehead, Guillermo Rozenthuler's folkloric quartet 'Rioplatenses', Dog Soup, and the Koby Israelite Group. John is an experienced composer as well as a trained classical and jazz pianist, and currently directs the E17 big band he is also the pianist for many tango groups, including the Birmingham-based 'El Ultimo Tango' and Transtango, a multimedia project featuring Tim Garland and Eduardo Vassello. French born, Tristan Mailliot studied at Dartington College of Music and The Royal Academy of Music. He has appeared with leading UK and international artists, including; Art Farmer, Jim Hall, Bobby Shew, Scott Hamilton, Peter King, Stan Tracey, Dave Newton, Alan Barnes, Gerard Presencer and Jim Mullen. He has many recording credits to his name including albums by Tina May and Gareth Williams.