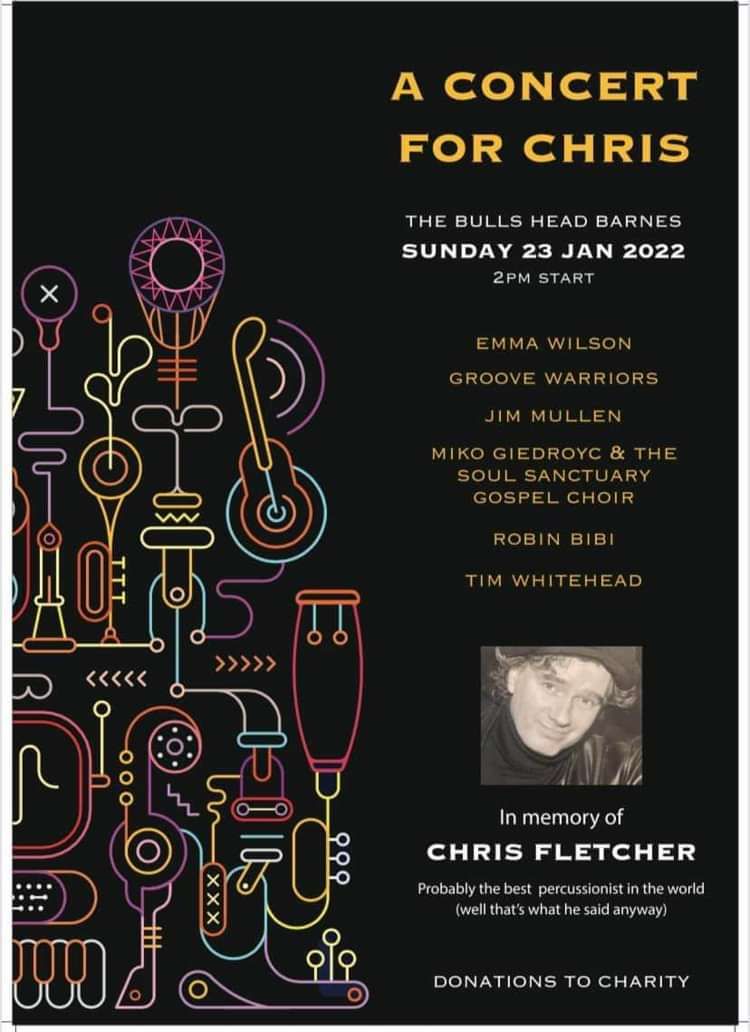 Bull's Head Live presents:
Chris Fletcher Memorial
Jim Mullen + Tim Whitehead + Robin Bibi + Soul Sanctuary + The Groove Warriors
Donations OTD
Entry Requirements: Under 18s to be accompanied by an appropriate adult
Special Memorial Concert for Chris Fletcher on The Lunchtime Session Featuring Special Guests
IMPORTANT NOTICE: In compliance with current government guidelines and our licence. As a condition of entry, guests are required to provide their NHS COVID Pass or equivalent proof of vaccination or testing. This includes proof of a negative LFT reported to the NHS test and trace facility. If you have any queries, please do not hesitate to contact us on 020 8876 5241
This is a special show to celebrate the life and playing of one of the UK's leading jazz lights and percussionists, the late, great Chris Fletcher. Chris played with some of the top bands of the 70's and onwards, often at The Bull's Head, right up until his sudden and untimely demise last year.
Morrissey Mullen, Ian Car, Chris Rea, Paz & The Groove Warriors were among those who valued his musical talent, his passion for both percussion and life remaining undimmed to the end.
Among the guests who will be playing the show are Jim Mullen, Tim Whitehead, Robin Bibi, Soul Sanctuary, and The Groove Warriors.
We will be accepting donations on the door, all of which will be donated to the family's chosen charities.
Doors will be open at 14:00, the act will start at 14:30 and continue into the afternoon with an interval