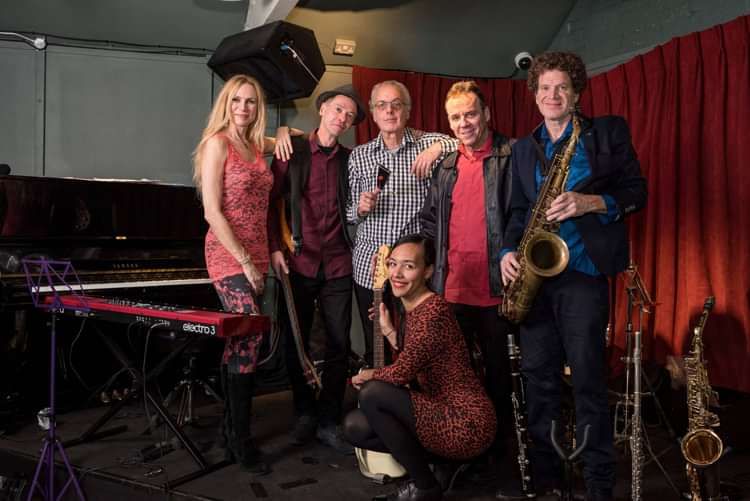 Bull's Head Live presents:
Momentum
Momentum
£13 Adv. // £15 OTD
Entry Requirements: Under 18s to be accompanied by an appropriate adult
Momentum
IMPORTANT NOTICE: In compliance with current government guidelines and our licence. As a condition of entry, guests are required to provide their NHS COVID Pass or equivalent proof of vaccination or testing. This includes proof of a negative LFT reported to the NHS test and trace facility. If you have any queries, please do not hesitate to contact us on 020 8876 5241
Momentum are a six-piece, contemporary jazz-fusion band with three well received albums already to their name; the much heralded "What's the Vibe?", "Action to New York", and "Singularity". Their songs are an eclectic mix of Jazz, Flamenco, Tango, Calypso, and Reggae.
This is the first time the band has been back to The Bull's Head since the start of the pandemic, providing an ideal opportunity to revisit their exciting brand of world music and jazz.
The lineup features the ubiquitous Yosi Marshall on saxes, clarinet, and flute. The amazing Johhny P on bass, the gorgeous vocals of Lonette Charles, and the lovely Caroline Cooper on Keys, talented Paul the Viskinator on guitar, and Lyn the Skin on drums and percussion.
Momentum always attract enthusiastic audienceswherever they play, constantly performing new material at every show, always surprising the crowds with their inventiveness.
"Momentum's jazzy, bluesy, latiny tunes will get your feet shuffling and leave you smiling. Time spent with them always put me in a great mood..." Beverley D'Silva - The Sunday Times
Doors will be open at 19:00, the act will start at 19:30 and continue into the evening with an interval
Line Up
Momentum
Momentum are a fusion band who play an eclectic mix of jazz, funk, latin, tango, flamenco, reggae with tinges of Afro-Cuban sounds.
Momentum recorded their third album, What's the Vibe? in July 2018, at 3 Sixty Studios in Dollis Hill over a very intense weekend during the World Cup. It features tunes such as Abracabus, Cheeky Half, Zakka Wakka, Ocean Sway and Hello Helsinki.
You can listen to What's the Vibe? Acton to New York and Singularity.
You can hear 30sec clips on the Momentum Band Music Page or listen to all three albums (and buy a download) at Bandcamp, Itunes, Spotify and Napster. (Just type Momentum What's the Vibe? Singularity or Acton to New York).
Yosi, formally with Ramajaz, is a classically-trained pianist, who studied at the London College of Music, and went on to perform recitals at many London churches and concert halls. He formed his group, Ramajaz over 5 years' ago, and played at the Jaipur Literature Festival in January 2009. He made 2 albums with Ramajaz, Anjuna and Chennai Flamenco, featuring Sirish Kumar on tablas, Dimitri Vassilakis on Saxophone and Sharat Srivastava on Indian violin.
Yosi performs regularly with Momentum as saxophonist and bandleader. He writes most of the songs with Johnny Palmer and Momentum have been playing regularly at the Pizza Express Pheasantry, the Spice of Life, Charlie Wright's International, Bull's Head in Barnes, the Plough, Northfields, George IV in Chiswick, The Lord Nelson in Brentford and the Rose and Crown in Ealing. All the melodies are original and were composed by Yosi, saxophonist and leader, Johnny P, bass player, Caroline Cooper, Lonette Charles on vocals. They are joined by Lyn Edwards on drums/percussion and guitarist, Paul Viski.
Yosi also plays with the Viski Collective which is a Jazz, Latin and Soul band. They have been running for a couple of years now, and play pubs, clubs, weddings, functions, parties, boats, bar/bat mitzvahs and are available for any event where music may be required.