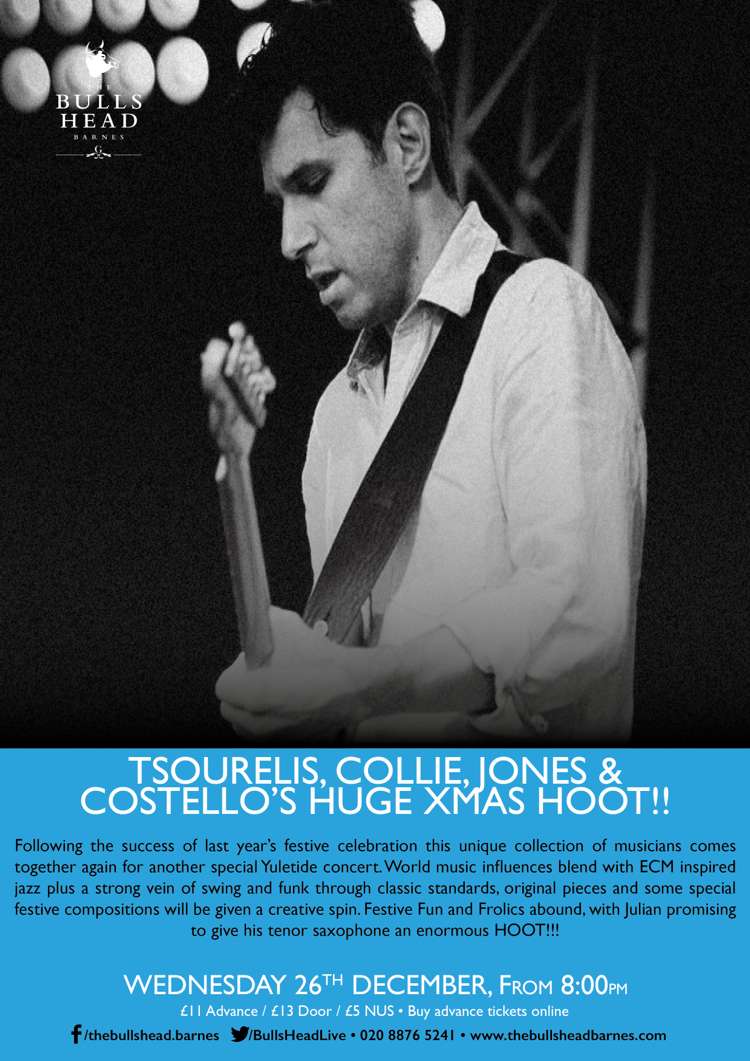 Tsourelis, Collie, Jones and Costello's Huge XMAS Hoot!!
£11 Adv / £13 Door
Entry Requirements: Under 18s to be accompanied by an appropriate adult
Featuring Stefanous Tsourelis, guitar and oud, Terence Collie, piano, Dave Jones, bass and Julian Costello, saxes, plus Willie Thwacket on drums. Following the success of last year's festive celebration this unique collection of musicians comes together again for another special Yuletide concert. World music influences blend with ECM inspired jazz plus a strong vein of swing and funk through classic standards, original pieces and some special festive compositions will be given a creative spin. Festive Fun and Frolics abound, with Julian promising to give his tenor saxophone an enormous HOOT!!! Terence Collie is a fabulous pianist and composer and very special musician on the London jazz scene recently seen playing with Gilad Atzmon and many other UK jazz stars within his Mood Indigo Productions. Julian Costello has been touring the UK through 2018 with his great Quartet presenting his CD 'Transitions' described as ".. proof that open music can provide the perfect meeting place to create something unique" - Iain Ballamy. Julian Costello is a sax lyricist, telling his stories of life's ups and downs with humour and even frailty at times. This is a great album. Sammie Stein Jazz in Europe Stefanous Tsourelis is a unique guitarist who seamlessly blends and intertwines a wide range of styles from traditional Greek influences through jazz to blues and rock. During 2018 he has been performing music from his first CD in the UK and in Sweden. He is currently recording music for his second CD which also features tonight's bassist Dave Jones.