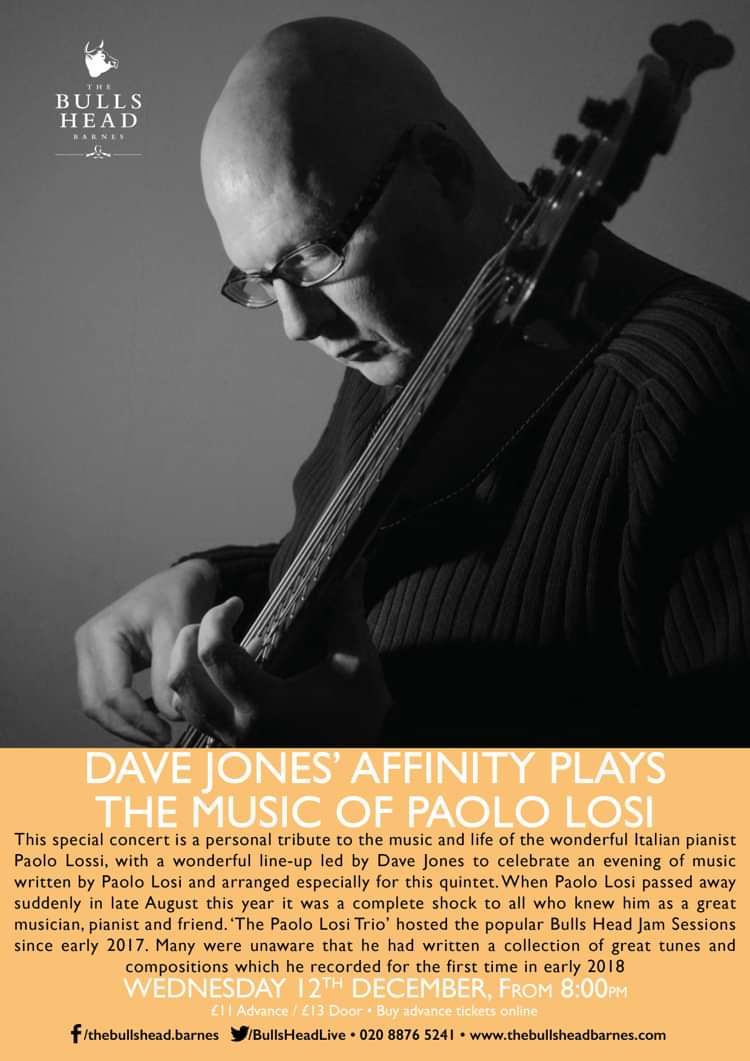 Dave Jones' Affinity Plays The Music Of Paolo Losi
Dave Jones
£11 Adv / £13 Door
Entry Requirements: Under 18s to be accompanied by an appropriate adult
Featuring John Turville, piano, Maciek Pysz , guitar, Gareth Lochrane, flutes, Eric Ford, drums and Dave Jones, bass. This special concert is a personal tribute to the music and life of the wonderful Italian pianist Paolo Lossi, with a wonderful line-up led by Dave Jones to celebrate an evening of music written by Paolo Losi and arranged especially for this quintet. When Paolo Losi passed away suddenly in late August this year it was a complete shock to all who knew him as a great musician, pianist and friend. 'The Paolo Losi Trio' hosted the popular Bulls Head Jam Sessions since early 2017. Many were unaware that he had written a collection of great tunes and compositions which he recorded for the first time in early 2018 with Dave Jones on bass and tonight's drummer Eric Ford which will soon be available for everyone for enjoy and remember Paolo's great musicianship and tonight's show will visit some of these great tunes in a different format with this great quintet assembled by bassist Dave Jones. John Turville is one of the leading jazz pianists of his generation and has won multiple awards for his two trio albums including MOJO's #3 Jazz Album of the Year (2012), touring and recording throughout Europe with many renowned jazz groups. Maciek Pysz is a Polish born and Paris/London based guitarist and composer known for his clear lyrical phrasing, his virtuosity and his imaginative cinematic compositions. Pysz plans to release his brand-new solo guitar album in late 2018 and his CD's have received critical acclaim. Gareth Lockrane is the UK's premier jazz flautist, a prolific and versatile musician who makes regular sideman appearances as well as leading his own small groups in addition to his acclaimed contemporary big band. Eric Ford is one the UK's most in demand UK jazz drummers who Paolo Lossi described as the 'master of texture'. Bassist Dave Jones' writing has been described "… sophisticated and nuanced … " London Jazz News'.
Line Up
Dave Jones
Dave's writing is sophisticated and nuanced. Just when you think you know where he's going, there is a change of texture or tempo, you do find yourself in an unexpected place and …. it's beautiful!! … London Jazz News'
Dave's bass playing in recent years has included Ronnie Scott's Soul and Jazz Orchestra, Pete Cater Big Band and Maciek Pysz. He has played alongside alongside drummers Steve Gadd and Keith Carlock and he remains active in jazz education as former head of Richmond Jazz School. John Turville has toured the UK and Europe with Gilad Atzmon and is currently working with Tim Garland's Lighthouse Trio, Tim Whitehead, Guillermo Rozenthuler's folkloric quartet 'Rioplatenses', Dog Soup, and the Koby Israelite Group. John is an experienced composer as well as a trained classical and jazz pianist, and currently directs the E17 big band he is also the pianist for many tango groups, including the Birmingham-based 'El Ultimo Tango' and Transtango, a multimedia project featuring Tim Garland and Eduardo Vassello. French born, Tristan Mailliot studied at Dartington College of Music and The Royal Academy of Music. He has appeared with leading UK and international artists, including; Art Farmer, Jim Hall, Bobby Shew, Scott Hamilton, Peter King, Stan Tracey, Dave Newton, Alan Barnes, Gerard Presencer and Jim Mullen. He has many recording credits to his name including albums by Tina May and Gareth Williams.