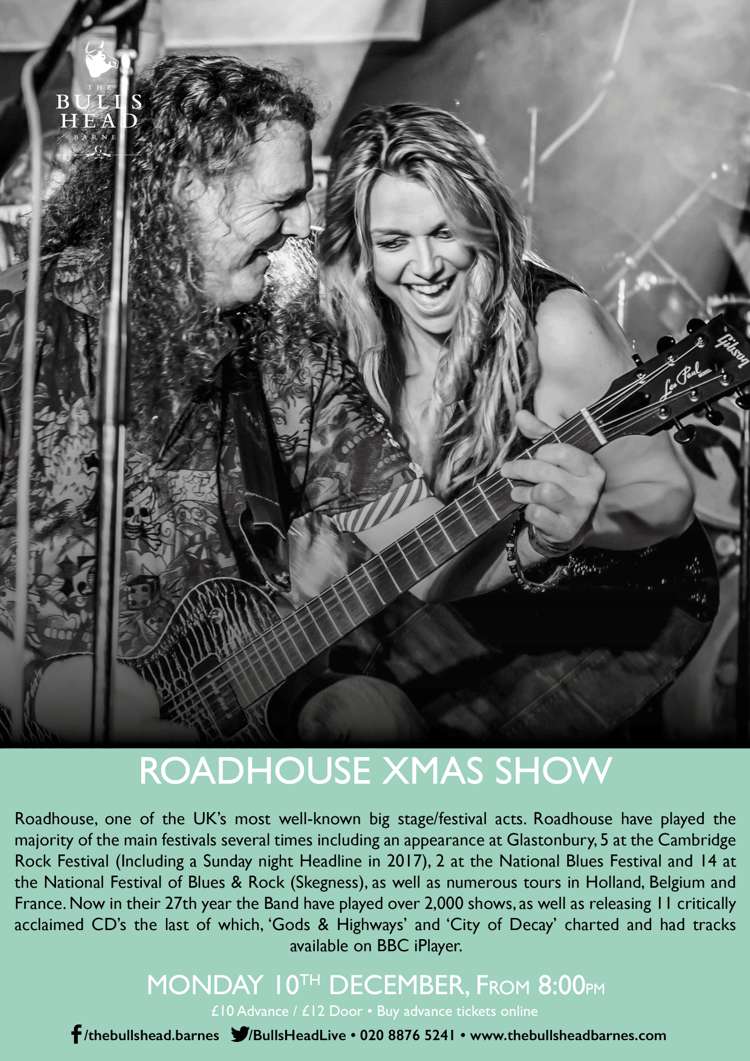 Roadhouse Xmas Show
Roadhouse Christmas Show
£10 Adv / £12 Door
Entry Requirements: Under 18s to be accompanied by an appropriate adult
Roadhouse, one of the UK's most well-known big stage/festival acts. Roadhouse have played the majority of the main festivals several times including an appearance at Glastonbury, 5 at the Cambridge Rock Festival (Including a Sunday night Headline in 2017), 2 at the National Blues Festival and 14 at the National Festival of Blues & Rock (Skegness), as well as numerous tours in Holland, Belgium and France. Now in their 27th year the Band have played over 2,000 shows, as well as releasing 11 critically acclaimed CD's the last of which, 'Gods & Highways' and 'City of Decay' charted and had tracks available on BBC I Player. The Band have their own artists page on amazon and feature 2 talented girl singers, 2 guitarists bass and drums and play high energy and sometimes quite dark and gothic Americana Blues Rock. Roadhouse are currently promoting their 25 Year Anniversary CD, featuring some of the very best of the Band on individually numbered CD's. Demand has proven to be very high for this collector's item. The Roadhouse Xmas show at the Bulls Head is an institution, running for over 10 years. This show features an hour set from Roadhouse, plus guest appearances from lots of well-known friends/quality musicians. 2017 for example featured guitar great Robin Bibi and ex Savoy Brown harp maestro John O'Leary as well as a Band appearance from the excellent Deep Blue Sea. The 2018 roaster is currently under construction and a strong bill of musical talent is expected.
Line Up
Roadhouse Christmas Show
Roadhouse are one of the UK's most established, big stage Blues/Rock acts. A collaboration between experienced Blues/Rock musicians and much younger, talented female vocalists, Roadhouse are generally regarded as generating some of the best original material in the UK. Led by acclaimed song writer, song writer, guitar player and singer, Gary Boner, 2010 saw the band go from strength to strength. Roadhouse are signed to Blues Matters/Krossborder Rekords and their current CD, Gods & Highways & Old Guitars (Widely regarded as their best) is on general release. Achievements:24 years on the road, with over 2,000 live shows, including many high profile festival appearances– Appearances at Glastonbury 2010, 11 appearances at the National Festival of Blues & Rock Skegness, 7 appearances at the National R&B Festival Colne, 2 at the National Blues Festival Burnley and numerous other festivals across Belgium, The Netherlands, Ireland and France. This includes playing to nearly 10,000 people at the Antwerp festival with Dr Feelgood and John Hammond in 2005– The release of 11 critically acclaimed CD's, that have achieved play (frequently full rotation) on over 500 radio stations in more than 20 different countries.