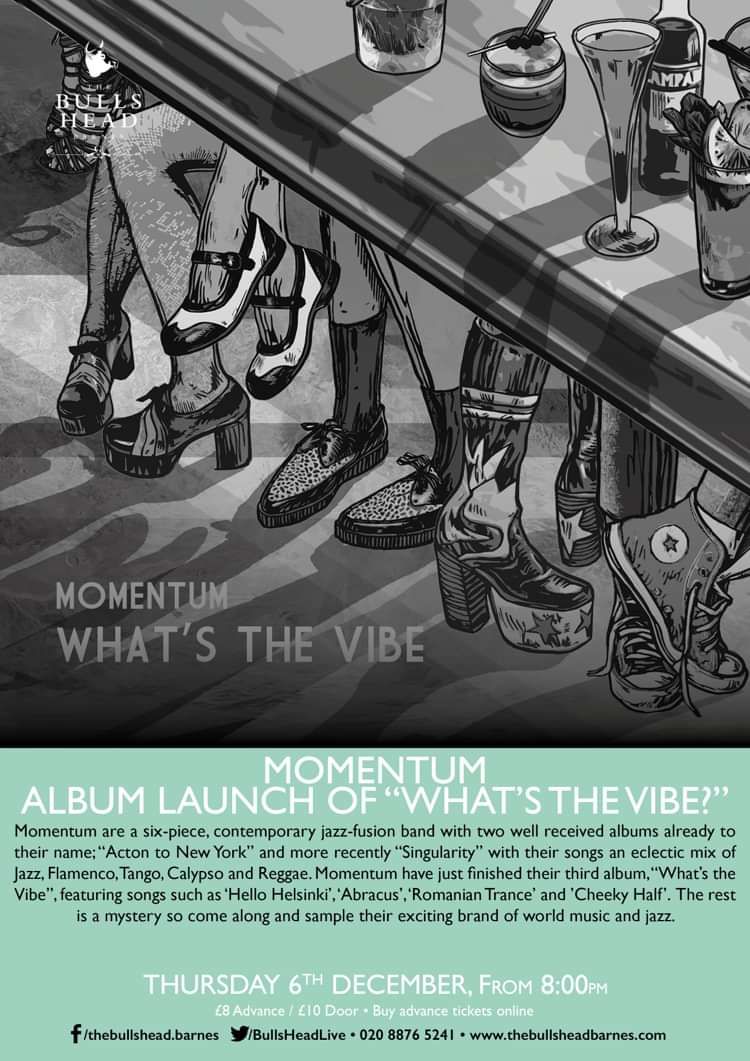 Momentum – Special Album Launch of "What's the Vibe"
Momentum
£8 Adv / £10 Door
Entry Requirements: Under 18s to be accompanied by an appropriate adult
Momentum are a six-piece, contemporary jazz-fusion band with two well received albums already to their name; "Acton to New York" and more recently "Singularity" with their songs an eclectic mix of Jazz, Flamenco, Tango, Calypso and Reggae. Momentum have just finished their third album, "What's the Vibe", featuring songs such as 'Hello Helsinki', 'Abracus', 'Romanian Trance' and 'Cheeky Half'. The rest is a mystery so come along and sample their exciting brand of world music and jazz. The line-up features the ubiquitous Yosi Marshall on saxes, clarinet and flute, the amazing Johnny P on bass, the gorgeous vocals of Lonette Charles and the lovely Caroline Cooper on keys, talented Paul Viski on guitar and Lyn the Skin on drums & percussion. Momentum always attract enthusiastic audiences wherever they play, constantly performing new material at every show, always surprising the crowds with their inventiveness. "Momentum's jazzy, bluesy, latiny tunes will get your feet shuffling and leave you smiling. "Time spent with them always put me in a great mood ……" Beverley D'Silva - The Sunday Times.
Line Up
Momentum
With a fantastic live show that grips the audience's attention and takes them on a jazz-funk & fusion trip that is well worth taking. The band plays all original material, a musically sexy mix of jazz, tango, calypso and indo-fusion. The dynamic jazz & latin line-up features Yosi Marshall, saxes, Johnny P, bass, Kate de Freitas, vocals, Urszula Szczepanek, keyboards, Paul Viski, guitar and Lyn Edwards, drums.