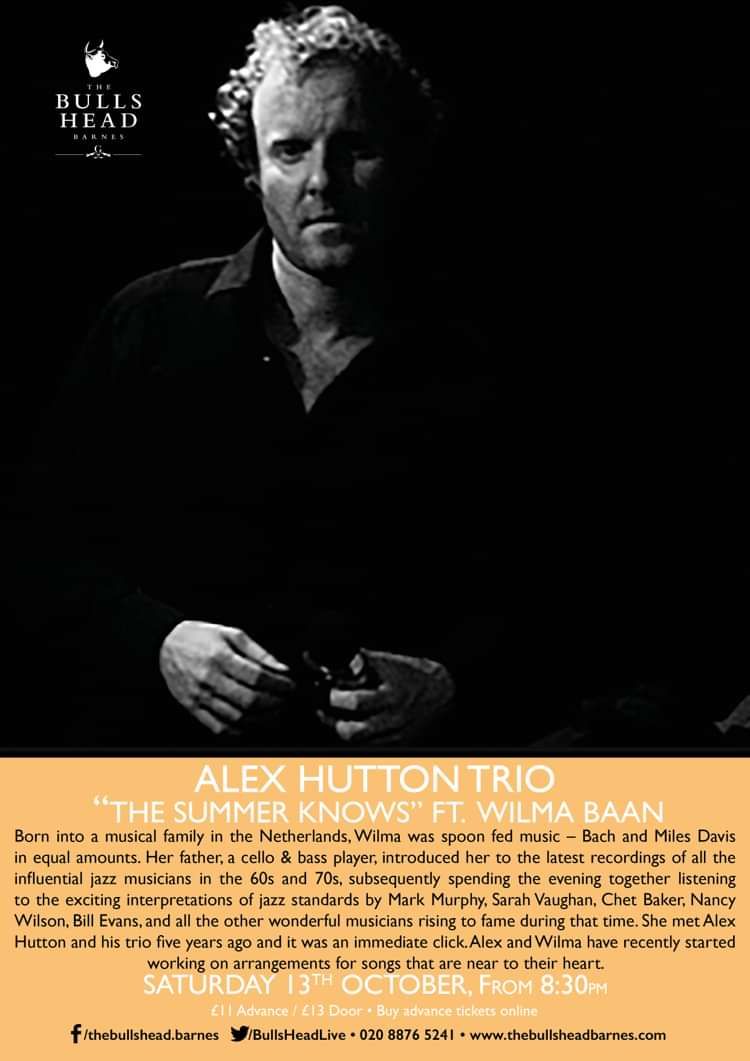 Alex Hutton with Wilma Baan "The Summer Knows":
£11 Adv / £13 Door
Entry Requirements: Under 18s to be accompanied by an appropriate adult
Featuring the highly acclaimed pianist Alex Hutton and the noted Dutch jazz vocalist Wilma Baan. Born into a musical family in the Netherlands, Wilma was spoon fed music – Bach and Miles Davis in equal amounts. Her father, a cello & bass player, would take her to the music store to purchase the latest recordings of all the influential jazz musicians in the 60s and 70s, subsequently spending the evening together listening to the exciting interpretations of jazz standards by Mark Murphy, Sarah Vaughan, Chet Baker, Nancy Wilson, Bill Evans, and all the other wonderful musicians rising to fame during that time. So, music was in Wilma's blood, and to her it felt as natural as breathing. She sang the tunes she affiliated with most - jazz and Latin compositions – supported by a jazz trio consisting of friends. To her surprise her performance was received with enthusiasm, and the beginnings of her singing career were born. Four countries and two children later, Wilma and her family moved to the UK and have since settled there. She met Alex Hutton and his trio five years ago and it was an immediate click. Alex and Wilma have recently started working on arrangements for songs that are near to their heart, featuring composers such as Michel Legrand, Johnny Mandel, George Benson, Kenny Rankin, A C Jobim, Joe Raposo and Bobby Troup. The line-up for the evening is Wilma Baan vocals, Alex Hutton, piano, Sandy Burnett, bass & Matt Skeaping, drums.