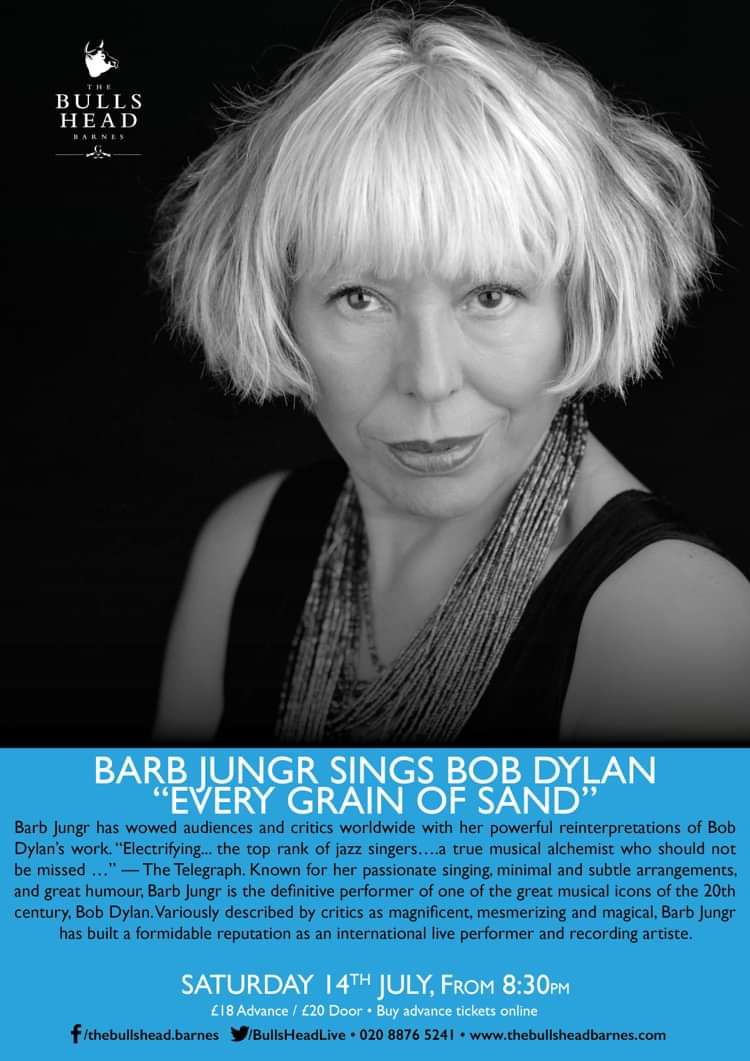 Barb Jungr sings Bob Dylan "Every Grain of Sand":
Barb Jungr
£18 Adv / £20 Door
Entry Requirements: Under 18s to be accompanied by an appropriate adult
Barb Jungr has wowed audiences and critics worldwide with her powerful reinterpretations of Bob Dylan's work. "Electrifying... the top rank of jazz singers….a true musical alchemist who should not be missed …" — The Telegraph. Known for her passionate singing, minimal and subtle arrangements, and great humour, Barb Jungr is the definitive performer of one of the great musical icons of the 20th century, Bob Dylan. Variously described by critics as magnificent, mesmerizing and magical, Barb Jungr has built a formidable reputation as an international live performer and recording artiste. Jungr has perfected the art of interpretation to such a level that listeners are often astonished to discover that well-known songs that they thought they knew, have been wonderfully transformed and very often elevated when Barb weaves her magic spell. She has attracted particular acclaim for her work on the songs of Bob Dylan, which produced two critically-acclaimed albums and a series of sell-out, award-winning transatlantic shows. For four consecutive years Barb has ranked at the top of Time Out, New York's best cabaret awards, for her mesmerizing shows, and in 2008 she received the Nightlife Award for Outstanding Cabaret Vocalist. Barb Jungr's first album of Bob Dylan songs is a cult classic and has won her a dedicated fan base from around the world. In 2013 The Wall Street Journal called the album "the most significant vocal album of the twenty first century thus far." At its original release, the album was in the Top Ten Jazz Albums Of The Year in The Sunday Times, The Telegraph and The Washington Paper (USA). "Possibly our best interpreter of Dylan's songs …." Billy Bragg. "Of all the new takes on Dylan, none is more essential than Jungr's…." New York Sun.