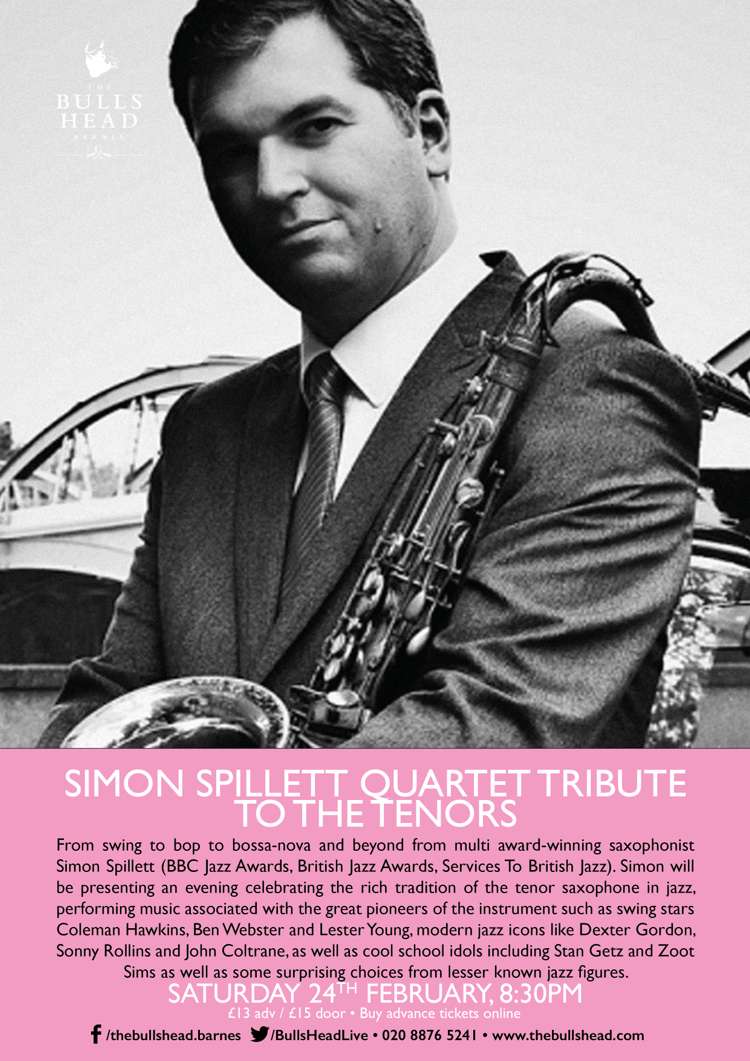 Simon Spillett Quartet Tribute To The Tenors
The Simon Spillett Quartet
£13 Adv / £15 Door
Entry Requirements: Under 18s to be accompanied by an appropriate adult
From swing to bop to bossa-nova and beyond from multi award-winning saxophonist Simon Spillett (BBC Jazz Awards, British Jazz Awards, Services To British Jazz). Simon will be presenting an evening celebrating the rich tradition of the tenor saxophone in jazz, performing music associated with the great pioneers of the instrument such as swing stars Coleman Hawkins, Ben Webster and Lester Young, modern jazz icons like Dexter Gordon, Sonny Rollins and John Coltrane, as well as cool school idols including Stan Getz and Zoot Sims as well as some surprising choices from lesser known jazz figures. Together with leading UK jazz players John Horler, piano, Alec Dankworth, bass and Spike Wells, drums, the music promises to be swinging and energetic, illustrated by fascinating stories about each of the featured artists, and the whole evening tied together with Simon's signature dry wit.
Line Up
The Simon Spillett Quartet
The Simon Spillett Quartet Play The Music Of Tubby Hayes: January 2015 marked a landmark anniversary in British jazz history – 80 years since the birth of the British saxophone genius Tubby Hayes. Arguably the legend of post-war British jazz, although Hayes died tragically in 1973, he has left us a rich legacy of recordings, compositions and arrangements which still continue to inspire. To celebrate Tubby's music, award winning saxophonist Simon Spillett has assembled a unique all-star ensemble comprising two musicians who knew and worked with Hayes – pianist John Critchinson and drummer Trevor Tomkins, along with American bass maestro Tim Wells for this special show. Among the music they will be featuring will be compositions and arrangements from albums such as "The Jazz Couriers In Concert", "Tubbs In New York" and "Mexican Green", along with other standards and ballads associated with the great Tubby Hayes.